Watercolor Painting is my Passion!
Welcome, you have come to the right place to view my watercolors in my Online Gallery. My watercolors are mostly realistic and are appealing to a wide range of people. My work is reproduced in several different formats to provide sales opportunities in all price ranges. I offer gi-clees, reproductions, note cards/greeting cards, magnets, calendars and wedding stationery.
Go to my Fine Art Gallery to view and purchase my work!
Here are a couple of pieces I have recently completed:
Custom Wedding Invitations:
Immortalize your wedding bouquet in watercolor! Cherish that watercolor, in the years to come, as part of your new interior decorating. It will not be hidden away in a box of momentos rarely to be seen again. Take that watercolor painting and use it as the theme for your wedding. I will design custom wedding invitations for YOUR wedding – they will be for you and you alone. I will work closely with you to ensure that you have the wedding stationery that best fits with the theme of your wedding. Please note that the original painting can also depict the location of the marriage, a local scene or even the Inn where the reception is held. Examples of different formats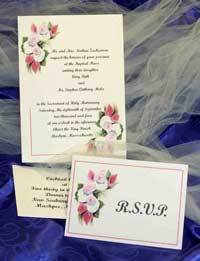 for invitations, RSVP cards, thank you note cards, etc. are available upon request.
Click here to read my free information about my custom wedding invitations!
Realistic watercolors are my passion. I have specialized in painting architectural elements of homes and business, from doorways and windows to the whole building, from barns to colonial style homes. My work also includes other scenic seasonal beauty of New England as well as florals (gardening is another of my loves).
For more information about my life and work click here for a longer version of my biography.