Welcome to Corner House Creations Gallery and Garden
In 2002 my husband, Don, and I installed and opened a gallery and garden at our home. My studuio is located just up the stairs from the gallery and the combination allows visitors from all over the world to visit, view and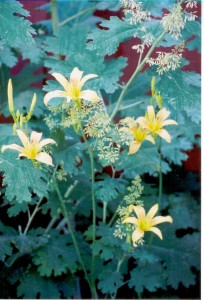 purchase my work. We are open by appointment, so please call before you visit to make sure that I am "in studio".
Our home was built in 1848 and we purchased it in 1987 and since that time we have spent much time, money sweat and tears on renovating it. My childhood in England with a family that thought gardening was a part of life not a hobby stood me in good stead when it was time to tackle our gardens. They didn't exist. I have tried to use some of the English gardening techniques, but have had to adapt them to the harsh conditions which sometimes befall us in Southern Vermont.
There are larger perennial beds in the front and side of the house and a raised bed vegetable garden at the end of the driveway. Intermingled with the plant material one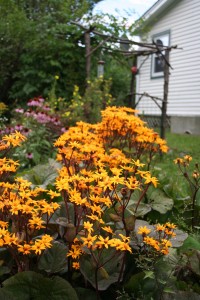 can see interesting pieces of recycled junk. Or new art for the garden. There is always something interesting.
My vegetable gardens are a mixture of vegetables, herds and flowers to form a beautiful pallete of colors. For example, one of my favorites is jewel nasturiums and red cabbage.
My garden often gives me inspiration and it shows in my work which is hanging in my gallery. Probably 85% of my work has flowers in a pot or garden in front of a house or all on their own, which just a dash of color and focal point.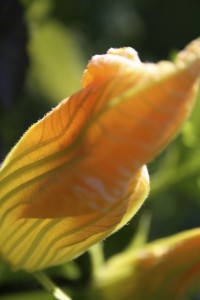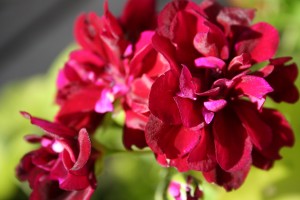 Also available for sale are a large variety of note cards, gift cards, reproductions, tee-shirts and magnets. We have had hundreds of visitors stop by and visit my gallery and garden either individually or during an organized event, such as the Vermont Craft Council's Open Studio weedend on Memorial Day weekend.
Most days I try to spend some time in my studio painting. I succeed more in the winter than any other time. It is a time of creating, planning and keeping warm!  So I look forward to see you when you visit my Gallery and Garden!