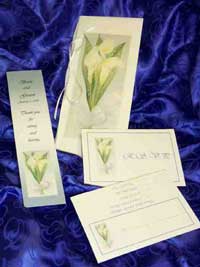 "Dear Jane,
When we first saw your work at the Mt Snow 2004 Bridal Show, we tought, Wow! Original Watercolors by a local artist! We were attracted immediately. You were our first choice for wedding vitiations and we are so pleased with the results. From the artwork to the special request font, to the fine tuning of the text, Jane, you have been a joy to work with. We look forward to working with you in the future. Thanks so much!
Jen and Tom, Wardsboro, Vermont."
"Hi Jane, As I go through these invitations, I can't help but be thankful that I met you and that we had you create them for us.
Thank you very much for being part of making my upcoming wedding a very special event. The invitations are what I've expected them to be. Thank you very much.
Elena, New Hampshire.
Elena and Mark chose to have me paint an original watercolor of the wedding location: The Cathedral of the Pines in Rindge, New Hampshire. This was then reproduced on their wedding stationery with a vellum overlay and the date of the wedding. Stunning!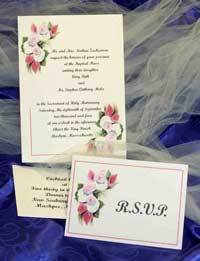 Thank you all for the great client reviews! Call 802-423-7535 or e-mail me at janemayjones@together.net today to talk about your perfect wedding invitations!