"Weddings: How An Unfortunate Series Of Events Led Me To The Secret Behind A Perfect Wedding… The Wedding Of YOUR Dreams"
Up until January 2001, I was employed with a national organization as a product manager and had been employed by them for more than 10 years, but that came to an abrupt end when they eliminated my position and send me packing with all the necessary documents in hand. Now, this wasn't exactly a surprise, I had an inkling that something like this would happen and Don (my husband) and I had already discussed the situation and had agreed that if it did happen, I joined our carpet cleaning company as office manager and would, at the same time, pursue my career as a watercolor artist. The two professions would fit very well and complement one another. Don's company is Catamount Carpet Cleaning, Inc and is in its 17th year. My business was born – Corner House Creations.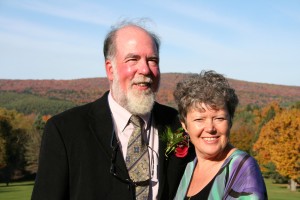 Although very nervous about this change in my career and how were we going to pay the bills, I look back on those first couple of years and realize how lucky I was to have had a husband who supports me in my every endeavor.
"How wedding stationery became an integral part of my business"
Let's go back a few years and I will tell you how I stumbled on to the possibility of making every bride's wedding perfect. First of all I have drawn, painted, crafted or made things all my life, it was my first love at High School, but I was unable to follow my dreams and took the more practical course of secretarial school. But in 1990-1991 I was introduced to watercolor and have never looked back. Since that time I have been regularly creating new works and to my surprise started to sell my work on a fairly regular basis and by the time my position was eliminated and I was ready to approach galleries and shows to present my work for sale.
During those early years, a colleague of mine was getting married and asked if I would be interested in painting daffodils which would then be reproduced on her wedding stationery. I created the original and she reproduced them and the guests loved them.
Nearly 10 years later another friend got engaged to be married and in conversation the idea came up for me to create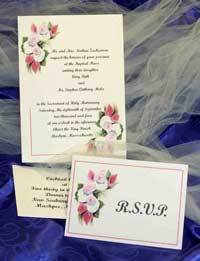 wedding stationery for them.
"Immortalize your wedding bouquet in watercolor!"
Since that time I have created unique, personalized wedding stationery for several happy couples every year. The general idea is to paint a watercolor of the flowers which are going to be in the wedding bouquet and then scan and reproduce this painting on all the stationery: save-the-date cards, invitations, R.S.V.P. cards, reception cards, programs, place cards, table cards, thank you cards and more. I will design one-of-a-kind stationery for YOUR wedding – they will be for you and you alone. I will work closely with you to ensure that you have the stationery that best fits with the theme of your wedding.
Each piece of the wedding stationery is designed in my studio in Vermont, therefore, they can be easily personalized and changed to suit your special needs. You will not have to choose from a large catalog with lots of restrictions on type style and text, ink color and design.
"Watercolor paintings can become part of your wedding day
as well as the rest of your life"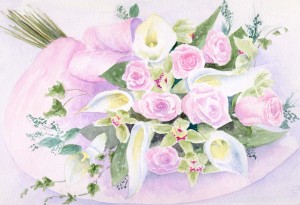 The watercolor I create especially for you can be cherished, in the years to come, as part of your new interior decorating scheme. It will not be hidden away in a box of momentos rarely to be seen again.
Please note that the original painting can also depict the location of the marriage, a local scene or even the Inn where the reception is held. Examples of different formats for invitations, RSVP cards, thank you note cards, etc. are available upon request.
Some brides have also chosen to use an image of a painting I have already created. A selection of images of my watercolors are available at www.janemayjones.com or by request.
"A little known fact is that you can have a personalized
touch without taking out a bank loan!"
You can choose to purchase the watercolor original and have it framed for your home. They start at $250.
Wedding stationery packages are available for up to 100 pieces each of invitations, R.S.V.P. cards and thank you cards for as little as $325.
"Purchase reproductions of the original watercolor
and give them as gifts to your bridal party!"
The perfect gift for your bridal party! They will be reminded of your happy day every time they pass the framed piece in the home. Another item on your checklist you can mark as done.
If you are ready to get started on your one-of-a-kind wedding stationery call me at 802-423-7535 or e-mail me jane@janemayjones.com today! I guarantee your complete satisfaction with the wedding stationery your guests will receive.
P.S. You will be the envy of all your friends when they see your beautiful wedding stationery.