"Custom wedding invitations are hard to find."
or "Personalized verses and poems for my wedding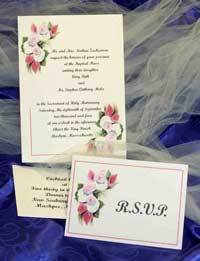 stationery are difficult to achieve with 'off-the-shelf' invitations." are comments I have heard in stores, printing shops and bridal shows.
It is NOT true! I can help you create beautiful unique wedding invitations which will be the envy of your friends and the talk of all your guests. Here is how I can help.
As a watercolorist I will paint the flowers which are going to be in your bridal bouquet, or the place or building where the marriage ceremony will take place or you can pick from my portfolio of paintings. The painting of your choice is then reproduced on your unique wedding invitations. I create, design and print them. YOU CAN BE IN CONTROL OF HOW THEY ARE FINALLY PRINTED! You can have as many choices in the process as you wish. I will also create RSVP cards, reception cards, thank you cards, programs, place cards, table cards, anniversary cards and save the date cards.
The Design Process
During the design process of your custom wedding invitations you will have the chance to choose:
The original watercolor painting.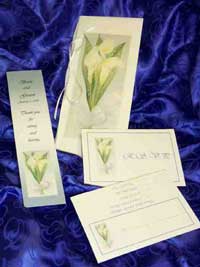 How the card will be folded and the size.
The font or type face.
The color of the ink. In fact you can send me a swatch of a dress or other fabric you will be using and I will match the color!
Ribbons and other decorations..
Most of my unique wedding invitations are printed on white card stock. I have found that my paintings reproduce much better and the images are clearer. Occasionally I have used vellum which gives the images a soft and delicate feeling.
Special Collections of my Unique Wedding Invitations
Special selections of my custom wedding invitations are available if you would rather choose from those packages. They will also give you an idea of pricing. The Calla lily collection above is printed on white card stock, but the invitation is covered in vellum and the calla lily is printed on the vellum. The thank you card is a laminated book mark for your guests to keep and use.
Custom gifts for you and the bridal party!
Not only will I create beautiful unique wedding invitation cards for you, but the original watercolor is available for you to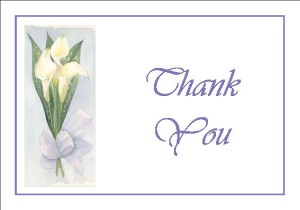 purchase. Once framed and hung in your new home can be an integral part of the interior decoration of your home. Every time you pass by the painting you will be transported back to the happiest day of your life. Reproductions of the original matted and/or framed make great gifts for your bridal party!