Wedding stationery sets the tone of your wedding!
So make a statement and contact me about creating the most beautiful stationery sets on the market.
Most commonly brides purchase wedding stationery which includes wedding invitation cards, wedding RSVP cards, wedding reception cards, wedding thank you cards and their corresponding envelopes and other personalized stationery. BUT, there are other articles which may be necessary to complete your wedding stationery package at the same time as ensuring that your guests have the information they need to attend the wedding of your dreams!
To complete your wedding stationery package you may want to think about including some of the following articles:
Save the date cards
Bookmarks as favors
Programs for the church or location of marriage
Place cards
Table cards
Save the date cards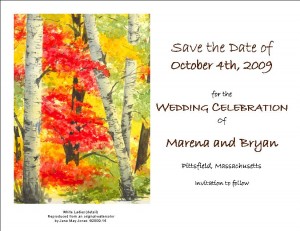 Are you planning a destination wedding or do you have many friends and family coming from afar?If the answer to this question is yes, then approximately six months before the wedding mail a save the date card to your guests. Include an image of your choice or the image you plan on using on all of your wedding stationery. Information you may want to include on a save the date card might be: the date, your names, location, hotel suggestions and local chamber of commerce telephone number. These items will help your guests plan their trip to the wedding of your dreams.
Bookmarks as favors or thank you cards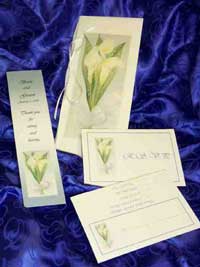 Using the image of your choice I will create a laminated bookmark. This is an item which is usable by everyone – it won't be stashed away in a cupboard and eventually thrown away. It will help remind your guests of your special wedding day as well as the fact that it keeps your wedding anniversary date in front of them.
Programs
Programs are an essential way for you to communicate to your guests how the wedding ceremony will proceed. It also helps those of your guests know who the participants are. It is often the case that guests are not acquainted with both families and all of your friends. Guests love to save them as keepsakes.
Place cards/Table cards
Are you having a sit-down dinner and would you like to ensure that your family and guest are seated with their family and friends, if so, you should have a table setting plan and place cards associated with it. You don't have to write each one individually, I can create them for you. Or one of my RSVP cards doubles as a place card which can be used in combination with my table cards. One side has the name of the guest and the other has their choice of dinner. Once you have your table setting plan complete and the number of tables you will need, assign each guest to a table. The day before the wedding have the table numbers placed on each table. At the entrance of the room have a table organized with a table card and behind the table card each place card seated at that particular table. This is just one way you can easy the seating process at your reception.
These are some items which will complete your wedding stationery package.
Personalized Stationery
Personalized stationery is also available for you to use after your wedding. Take the same image you used on your wedding stationery and use it year-round on letterhead, envelopes and note cards. I can personalize these and more for you.
Your Dream Wedding is at your fingertips. Call me to discuss your wedding stationery, it will be the envy of all your friends!